Accurate food recommendations to love based on your unique taste preferences
A Flavorful Adventure: Get Food Recommendations you are Guaranteed to Love!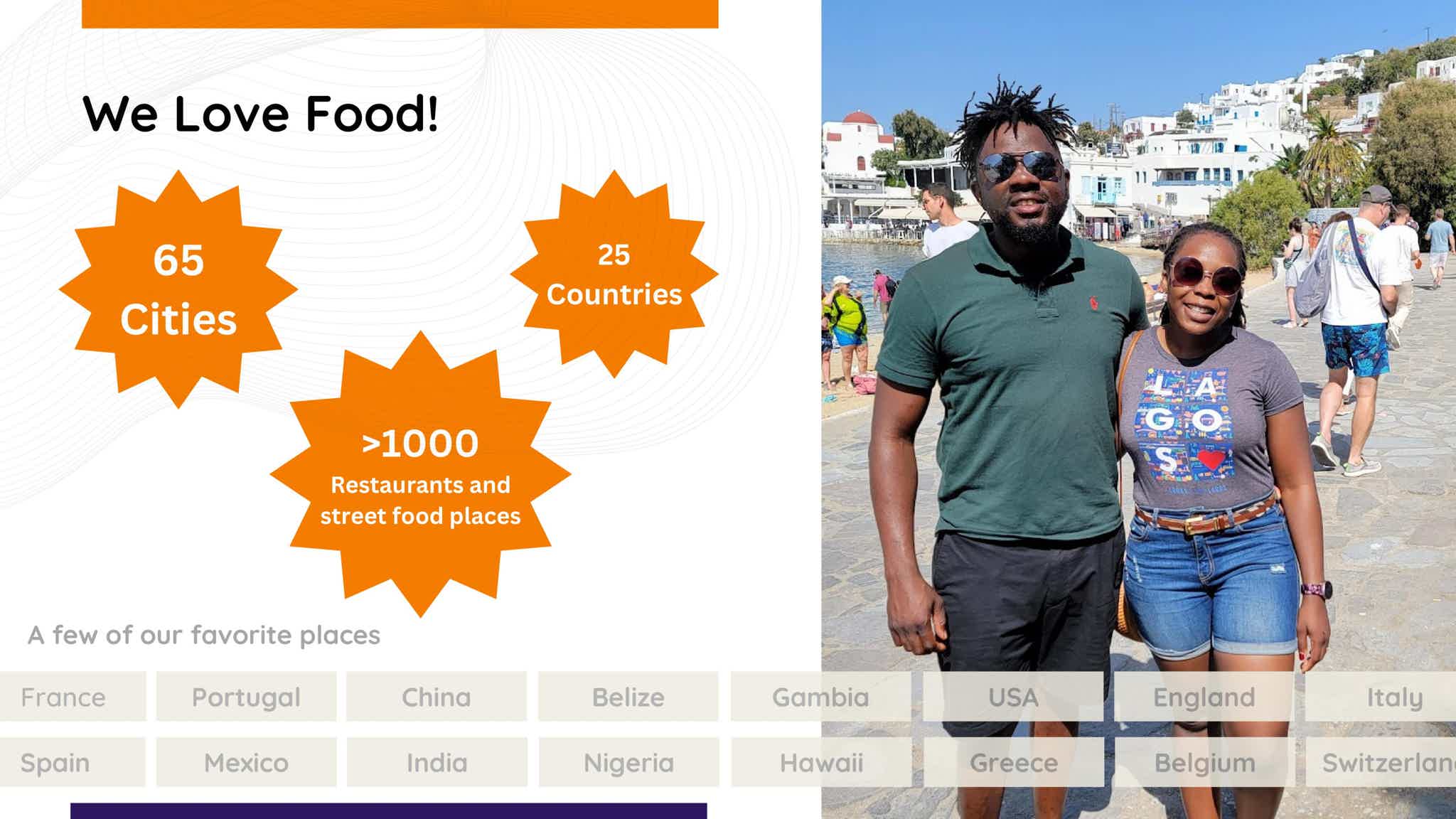 We have always had a passion for food and culture. Over the last 15 years, we have been fortunate enough to travel to over 65 cities in 25 different countries, immersing ourselves in the local cuisines and cultures.
From the bustling street food markets of New Delhi to the traditional tavernas of Mykonos, we have enjoyed every moment of our culinary adventures. One of the highlights of our travels has been trying new and exotic foods.
We have had the opportunity to taste everything from traditional Chinese dumplings to spicy Mexican street tacos. We have also had the chance to meet local chefs and home cooks who have shared their experiences with us.
We have also been able to learn about the history and cultural significance behind each dish, which has added to the overall experience.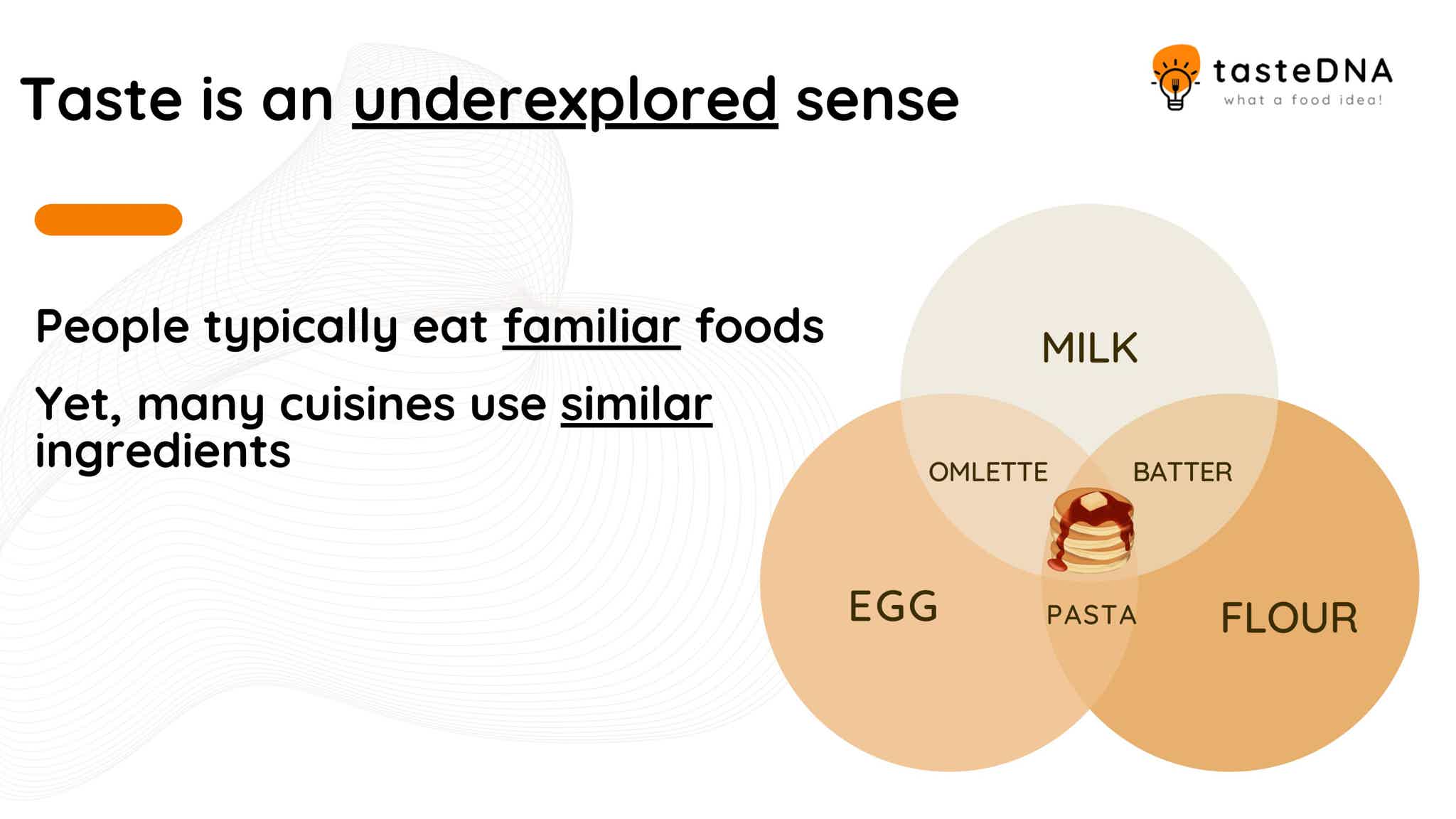 Taste is an underexplored sense. Despite the ever-increasing popularity of food delivery apps and the ability to access almost any cuisine imaginable, many people still limit their food experiences to what they are already familiar with.
This is a shame, as there are so many delicious and unique flavors out there waiting to be discovered. The problem is that our taste preferences are often shaped by our childhood experiences, familiar cuisines, economic status, and even genetics. These factors can restrict us from unlearning our current habits and creating new connections and relationships with food.
One of the most fascinating things about traveling and trying new foods is how, as a people, we all enjoy similar types of food but within the context of familiar cuisines.
For example, many foreign cuisines use similar ingredients such as tomatoes, onions, and spices but people tend to only eat food they are familiar with. This means that many people are missing out on the incredible variety of flavors and experiences that can be found by exploring different cuisines. With TasteDNA, we aim to break down these barriers and help users discover new and exciting flavors from all over the world.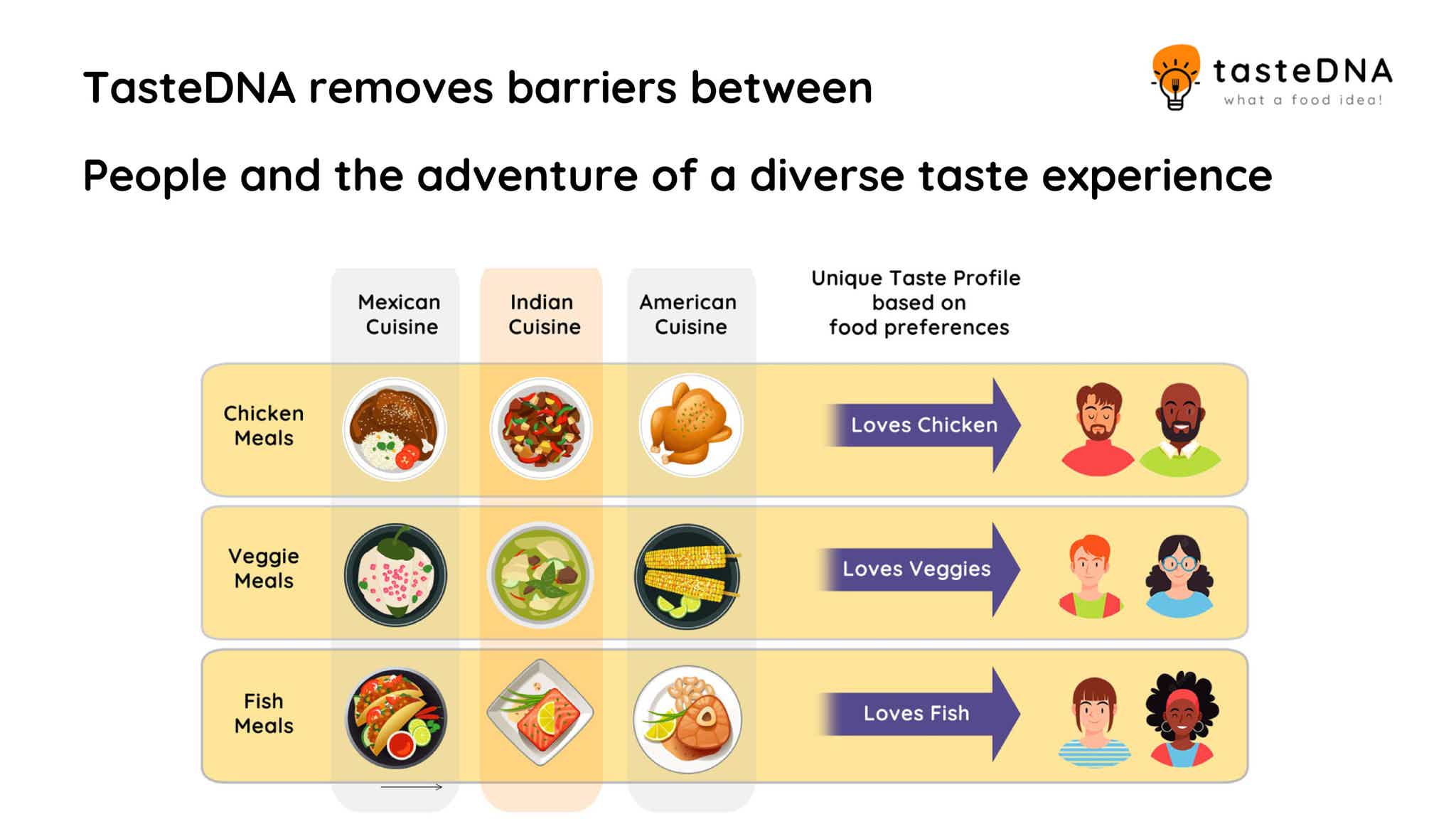 TasteDNA is an innovative app that creates accurate food recommendations based on a user's unique taste profile. By analyzing your past food choices and preferences, TasteDNA suggests new restaurants and dishes that are tailored to your specific tastes
By analyzing your past food choices and preferences, TasteDNA suggests new restaurants and dishes that are tailored to your specific tastes. This means that you can trust that the suggestions are tailored to your individual tastes and preferences.
One of the great things about TasteDNA is that it can help you discover new, off-the-beaten-path restaurants that you might not have found on your own.
 No more relying on the same old delivery options or scrolling through endless online menus. With TasteDNA, you can trust that the suggestions are tailored to your individual tastes and preferences.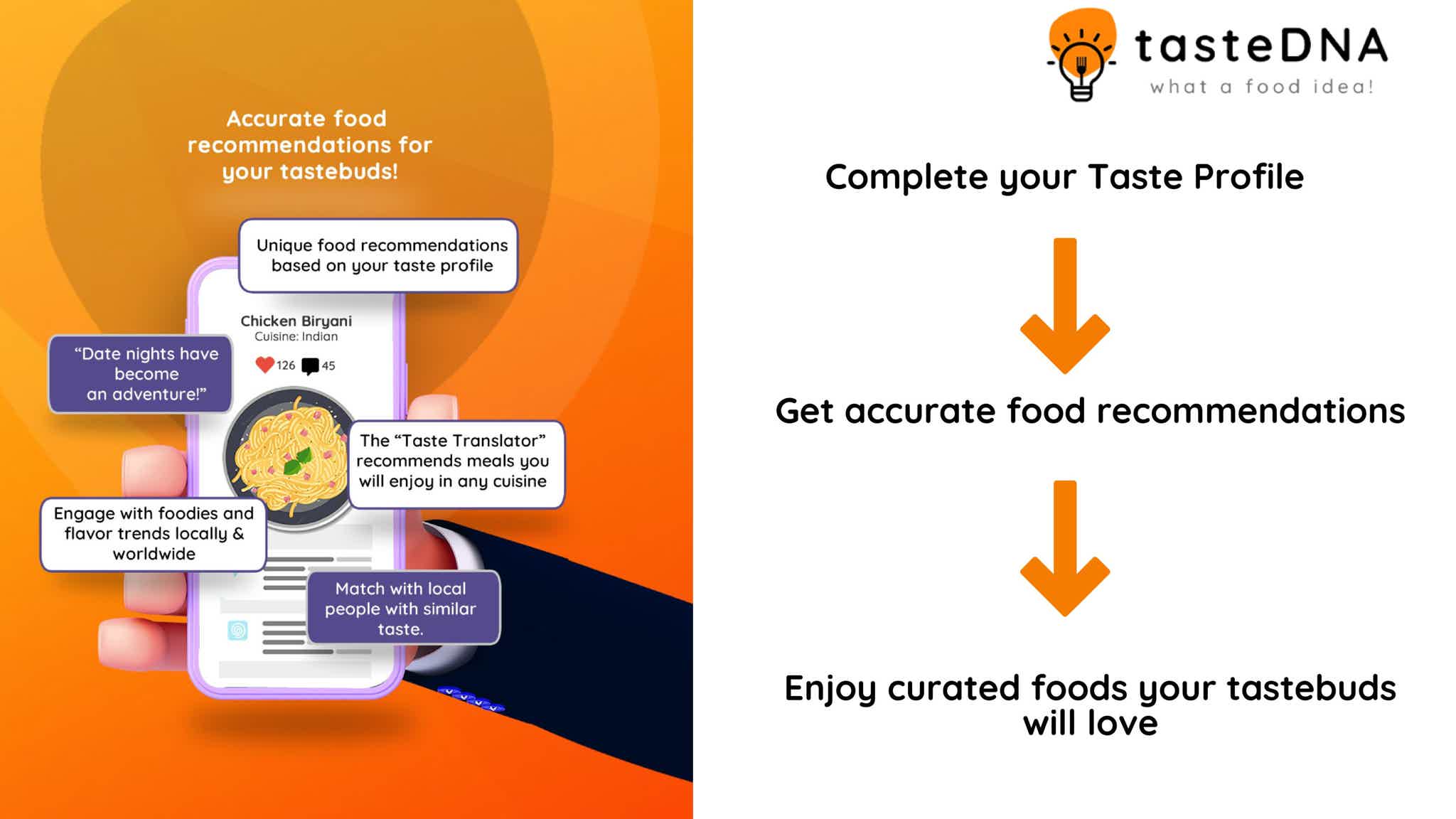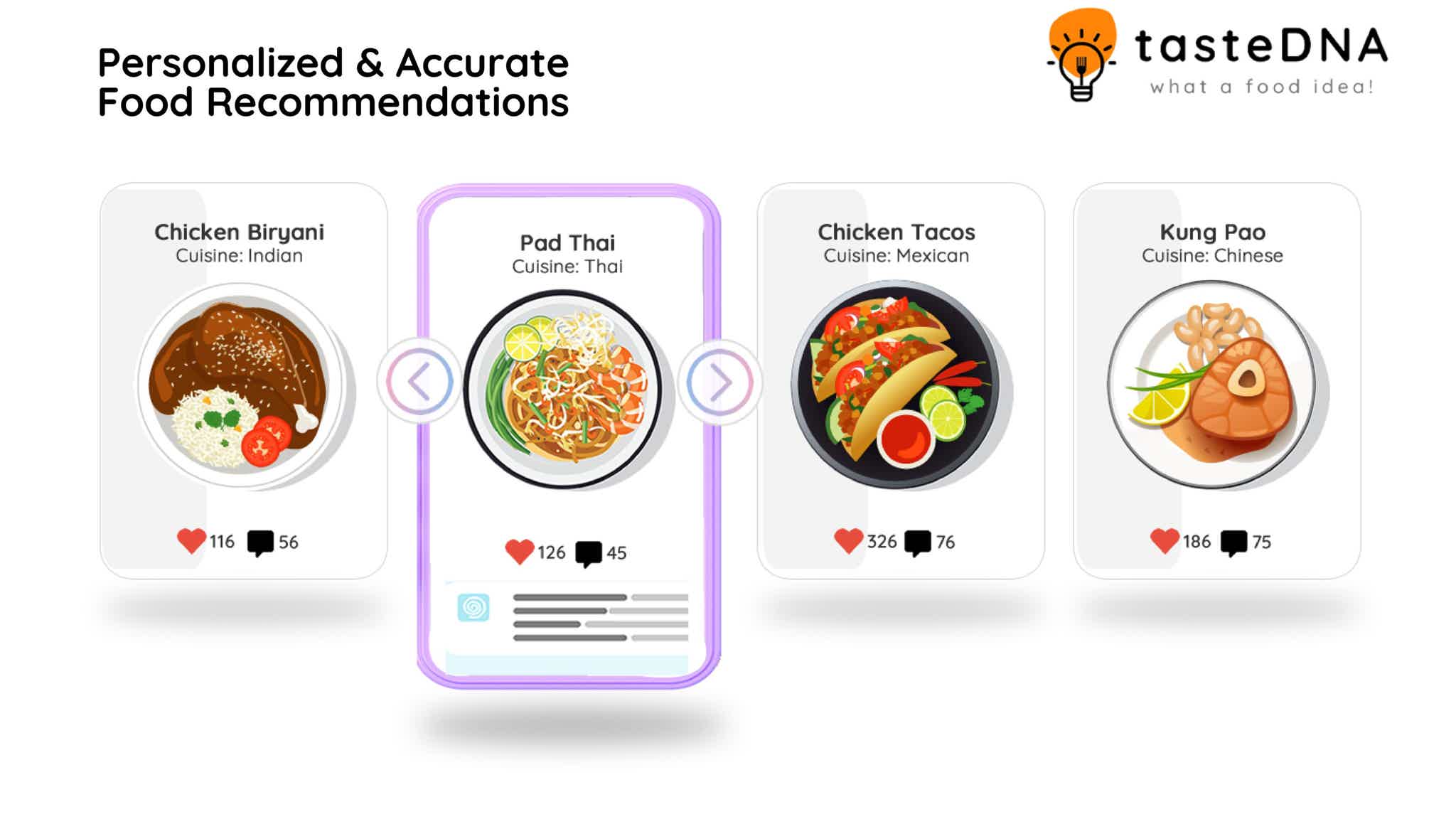 TasteDNA is designed to take you on a diverse and delicious taste adventure, exposing you to meals you will love, both within and outside your familiar cuisines.
Many people tend to stick to the foods they know, but TasteDNA allows you to explore new and exciting flavors from all over the world.
The app is designed to help you challenge your taste buds and discover new and exciting flavors. It can help you break out of your comfort zone and try new things, and you'll be surprised at how many delicious meals you'll discover.
TasteDNA opens up a whole new world of culinary possibilities, and it's the perfect app for anyone who wants to explore global cuisine without having to worry about whether or not their dietary restrictions will be met.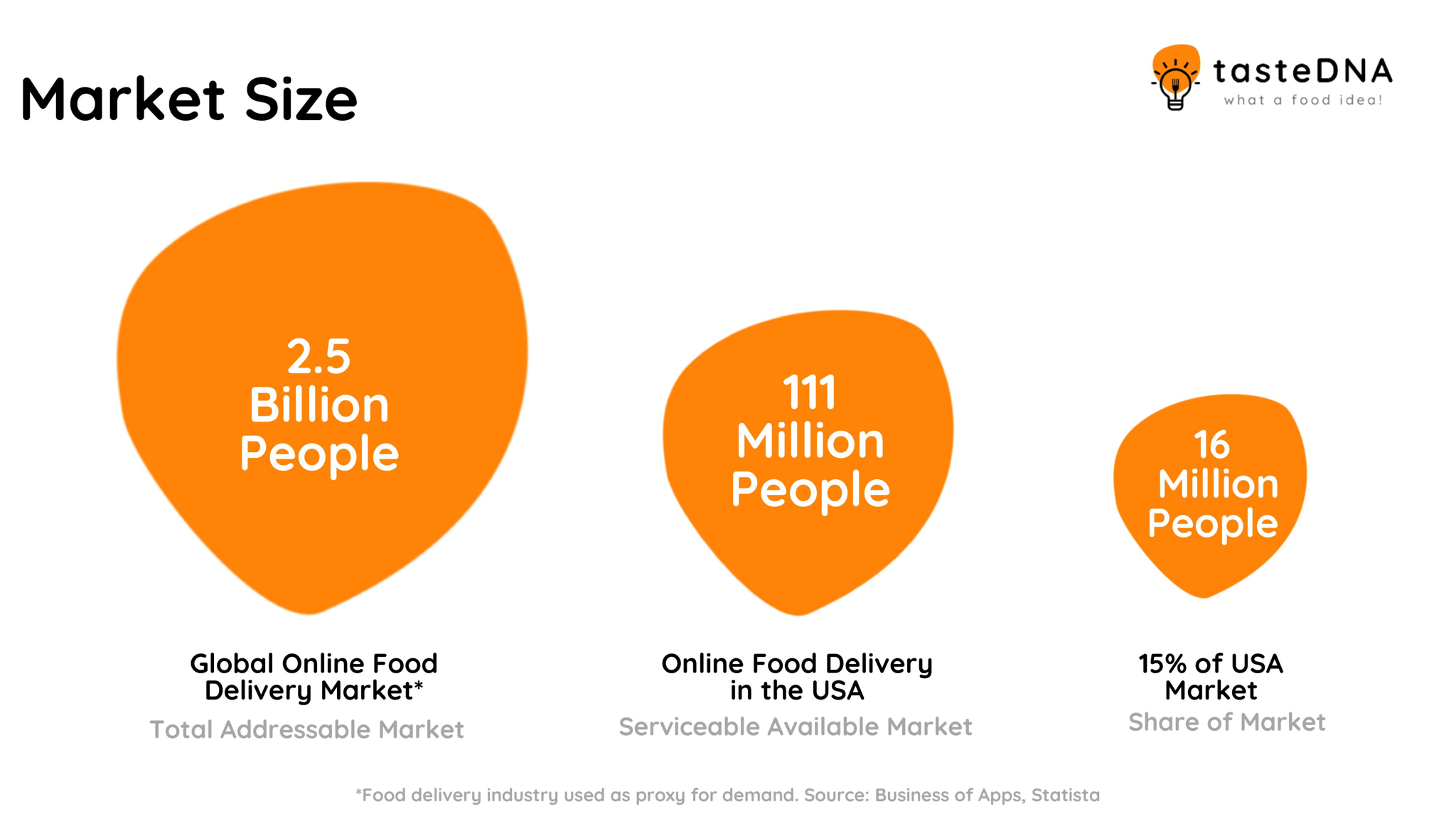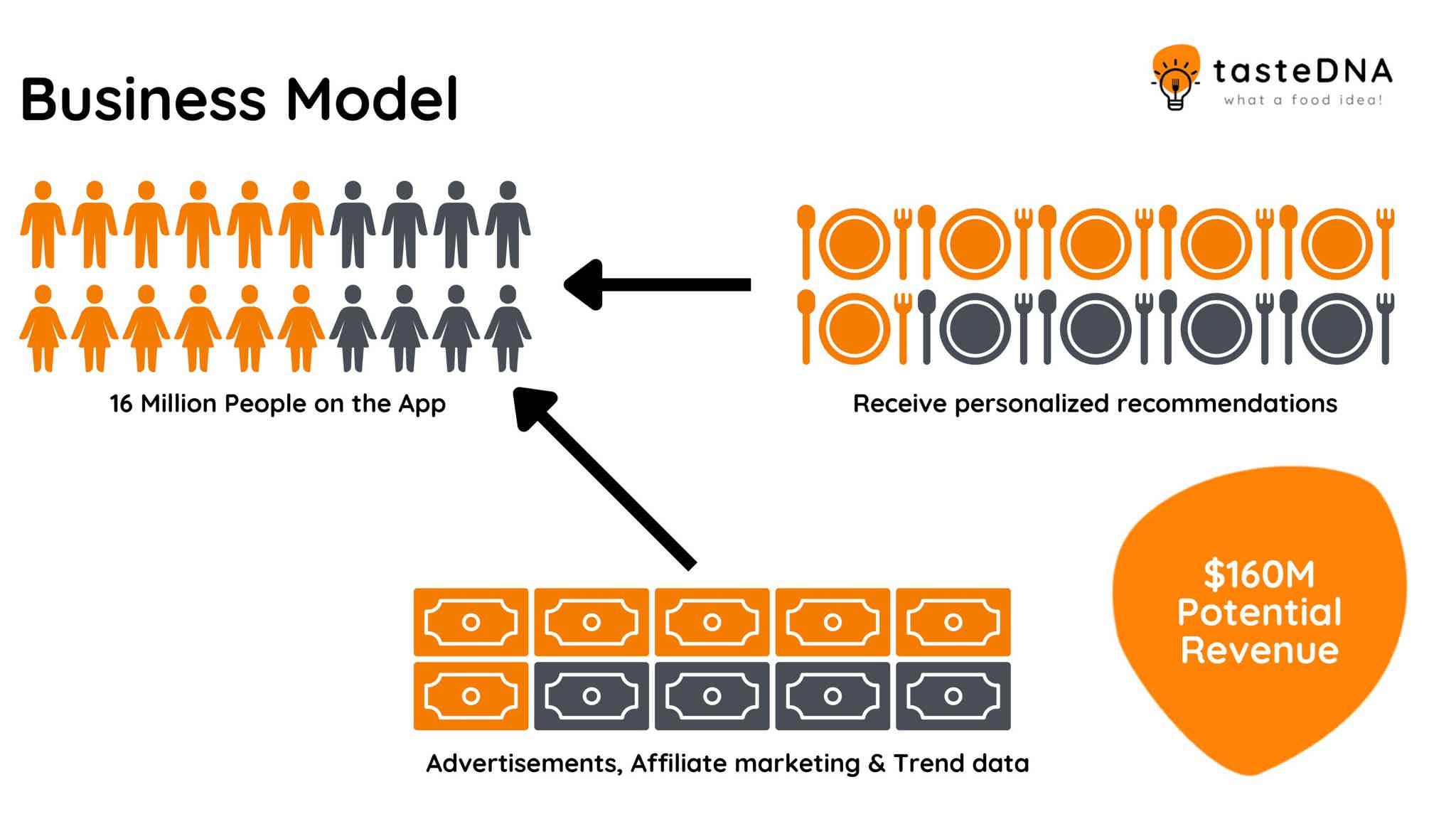 TasteDNA has a revenue model that utilizes multiple streams to generate income. One of the main sources of revenue is advertising. We will partner with food brands and restaurants to feature their products and promotions on our platform, allowing them to reach a targeted audience of food enthusiasts.
This not only generates income for TasteDNA, but also provides value to our users by exposing them to new and exciting food options. Another revenue stream is affiliate links. We include links to online food retailers and delivery services on our platform, and earn a commission on any purchases made through these links. This allows us to provide our users with a seamless and convenient food shopping experience while also generating income for TasteDNA.
In addition to advertising and affiliate links, TasteDNA also generates revenue through APIs and consulting services. We offer APIs to other businesses and apps that allow them to access our extensive food preference data and trends. This data can be used for market research, product development, and targeted advertising.
Additionally, we offer consulting services to businesses looking to improve their food offerings and menu development based on user data and trends. By leveraging our vast food preference data, TasteDNA can provide valuable insights to businesses looking to improve their offerings and attract new customers.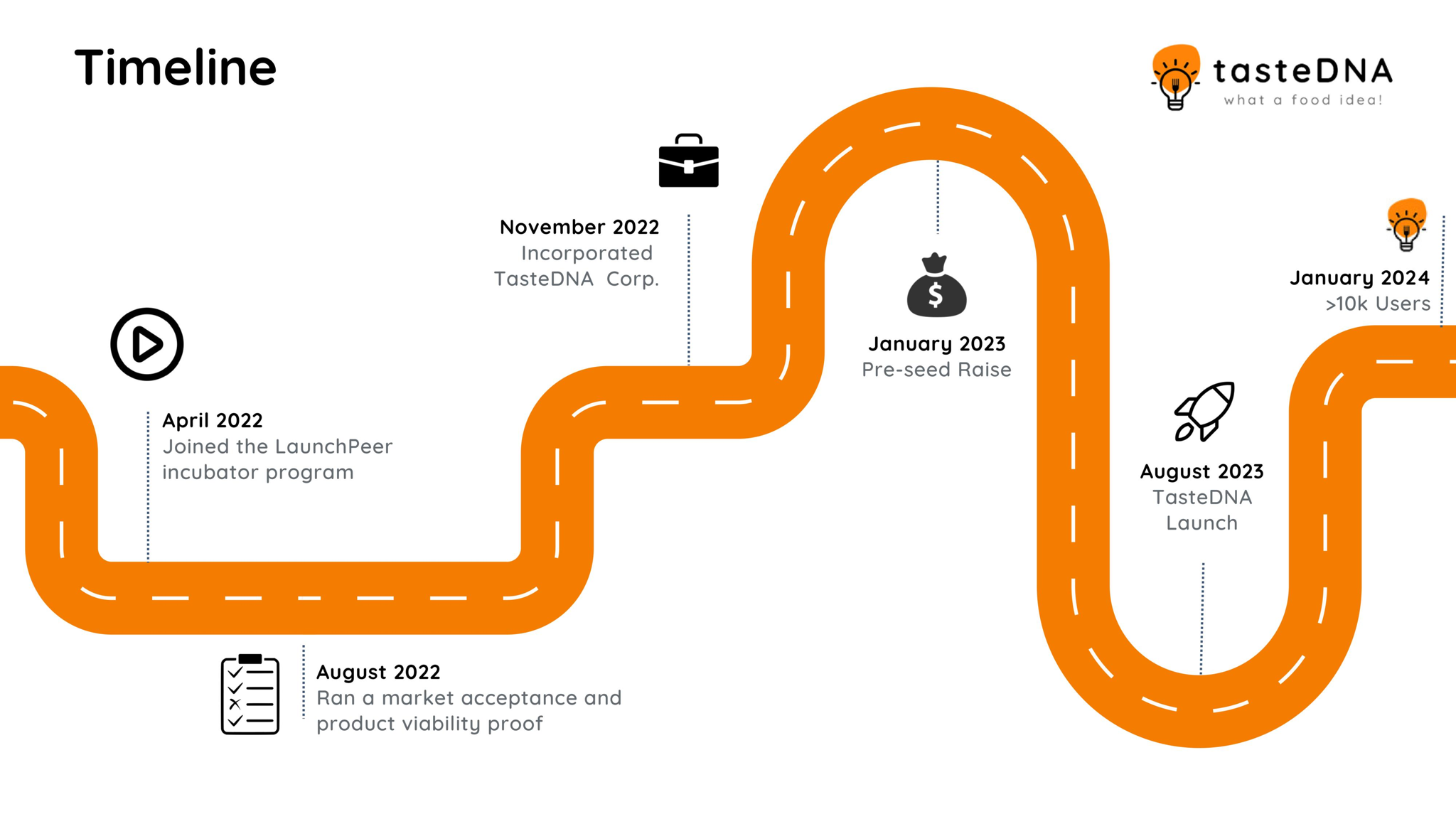 Enrolling in the Launchpeer accelerator program has provided a multitude of benefits in taking TasteDNA from an idea into a successful startup business.
Over the past 9 months, we have been able to put structure and organization to our idea. We have a clear business plan, we have identified goals and objectives, developed our preliminary financial forecasts, and established a path to success. The program's structure ensures that TasteDNA is on the right track and helps prevent common pitfalls that many new businesses face.
Through the Launchpeer program, we have privileged access to a wide range of tools and resources that give us a running start.
These resources include access to mentors and industry experts, networking opportunities, access to investment resources, sales, marketing, and product development. We are prepared and envision a soft launch date of August 2023 and plan to grow to 10,000 users by Q1 2024.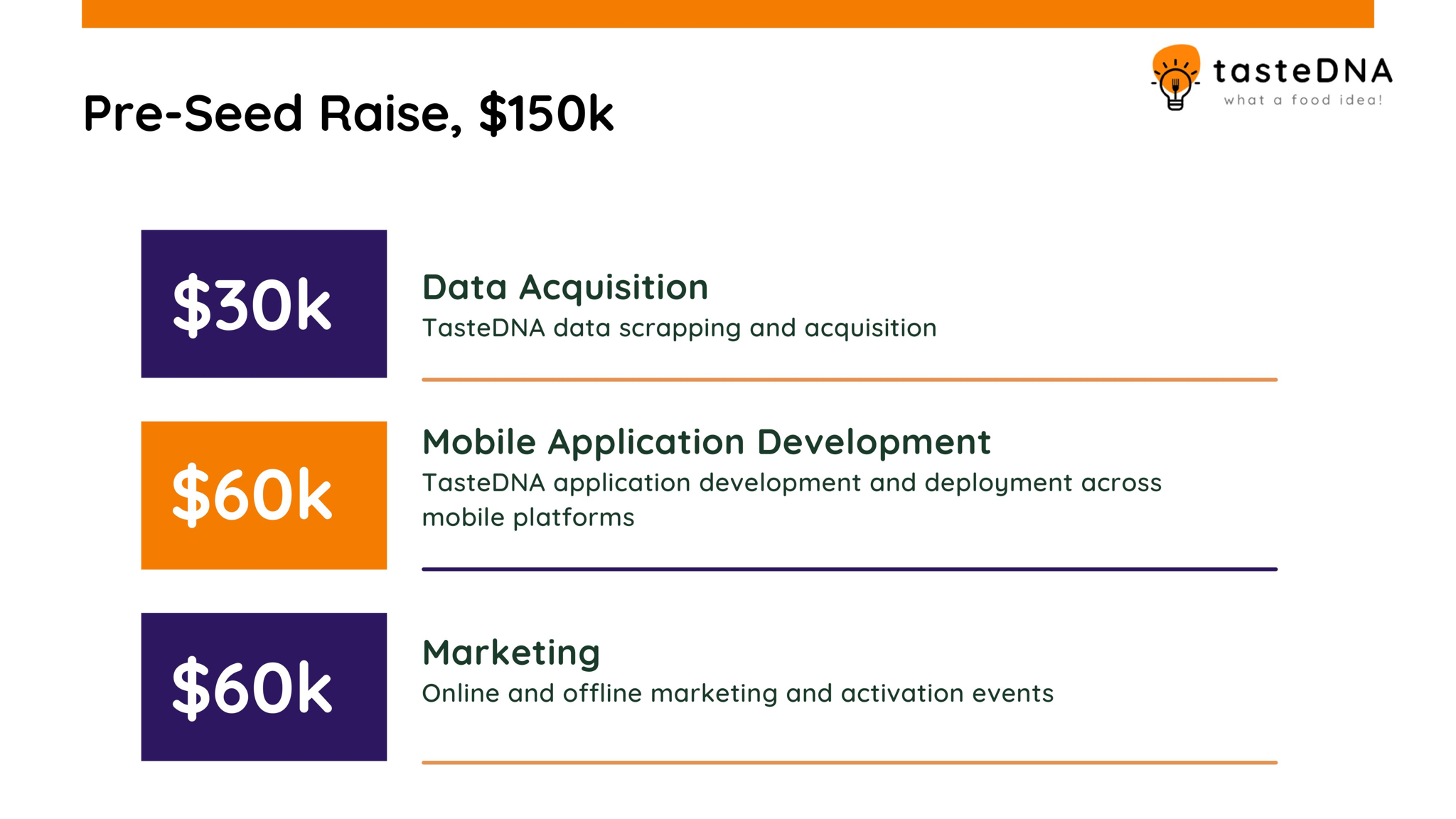 We are excited to share with you our vision for revolutionizing the way people discover and experience food.
Our app, TasteDNA, uses a unique algorithm to predict meals that users will love, whether they are within their familiar cuisines or not. This exposes users to a diverse and delicious taste adventure, unlike anything they have experienced before.
We are currently raising funds to accelerate our growth and develop the app to its full potential. This includes acquiring worldwide data of foods from different cuisines, as well as performing physical activations to promote the app and build a community of adventurous food enthusiasts. Our goal is to take taste from an underexplored sense and make it more accessible to everyone.
By investing in TasteDNA, you will not only be a part of this taste adventure but also contribute to the revival of foods on the brink of extinction and the diversification of our culinary experiences.
We are grateful for your consideration and look forward to the opportunity to work with you to make TasteDNA a reality. Thank you for considering being a part of our journey.