Banish Mealtime Monotony!
Discover new and exciting flavors from all over the world with TasteDNA! Our innovative app creates personalized food recommendations based on your unique taste profile, taking you on a diverse and delicious culinary adventure.
Discover unexpectedly
delicious food!
Discover and enjoy new and exciting flavors from all over the world, right from your phone. Never eat another boring meal!
Come for the
food, stay for the community!
We are bringing people together through their love of food. Come for the delicious culinary experiences and stay for the vibrant and supportive community of food enthusiasts.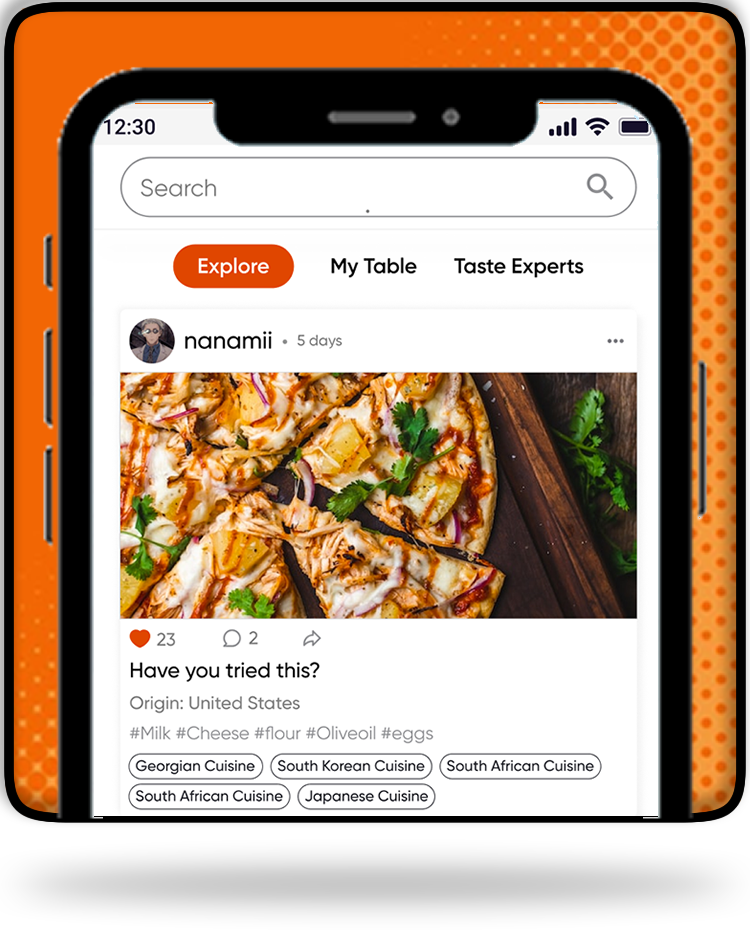 Easy onboarding,
delicious food at your fingertips!
Joining the TasteDNA food adventure is as easy as taking a bite! Our quick and seamless onboarding process gets you to the delicious food recommendations tailored to your tastes in no time.
Who Gives a Fork About Trying New Food Anyway?
You, and everyone in the LIVE FEED below looking for new taste adventures (in real time!)
What's cooking at TasteDNA?
As the WorldCup kicks off this weekend, I ran across the CNN article on the right pronunciation of "Qatar." I found it quite interesting that a word that has a precisely defined meaning to one of our senses, our eyes,

Many people think they know what they like… but most only want what they know It's incredible that "Foetuses and breastfed babies can taste what their mothers eat and have been shown to develop early affinities to certain flavors in their

"These apples are worth the risk," I said to my wife as I enjoyed one out of a bunch of apples we purchased at our local farmer's market. I explained to her that I specifically enjoyed the taste and crunchiness

"I'll eat with you," I told my wife, as a way to be nice after we missed out on doing something else together. This phrase got me thinking: What are the different forms of expressing love with food, and how

It's the end of the year, and many companies are looking for one last chance to wow their audiences this holiday season. Two big brands are trying something new and exciting, but more importantly, they prove it's time for a

In today's fast-paced world, finding the perfect meal can be a hassle. But that's where TasteDNA comes in. Our app creates accurate food recommendations based on your taste profile, making it easier for you to discover new and delicious meals

We're using an app to help people try new food. The old way was that they'd be afraid to try food they haven't eaten before and then they wouldn't know if they like it or not, so we are trying

Have you noticed the trend of people always looking for new and exciting food experiences? If you spend any time on social media, chances are you've seen a ton of posts with the hashtag #TryNewFood. People are always on the

As we await the TasteDNA mobile app launch in May 2023, this will be the very last valentine's where you endlessly scroll through restaurant menus, trying to find something that both you and your significant other will enjoy. And forget

Around the world, different cuisines offer a wide variety of flavors and ingredients that can tantalize the taste buds. Despite the diversity of dishes, there are often many similarities between different cuisines that go unnoticed by many people. For example,

Embracing food diversity is important for our health, well-being, and the environment. Eating a variety of foods from different cultures and cuisines provides a wide range of nutrients and health benefits, expands our palates, and exposes us to new flavors

Have you ever hesitated to try a new cuisine because of stereotypes or misconceptions? More than ever before, we are fortunate to have access to a wide range of global cuisines. However, it's not uncommon to stick to what we

Arachnophobia, the fear of spiders, is a widespread phobia that affects numerous people globally. The fear stems from our evolutionary past, as our ancestors had to deal with dangerous spiders in their environment. Inside.com's article, "5 reasons why you're so

On this April Fools' Day, we at TasteDNA are all about debunking myths that prevent people from fully enjoying the vast culinary world. As we embark on our mission to revolutionize our relationship with food and taste, let's explore and

As we celebrate Easter around the world, it's important to remember that while our traditions and customs may differ, there are many similarities that connect us as humans. One of the most significant commonalities is the importance of food in

Eid al-Fitr is one of the most important religious festivals celebrated by Muslims worldwide. It marks the end of Ramadan, the holy month of fasting and prayer. This festival is celebrated with great joy and enthusiasm, and one of the

CNN recently reported on a study linking fried food to an increased risk of anxiety and depression. The study found that individuals who regularly consume fried food had a 20% greater risk of developing these mental health conditions. While many

Are you tired of trying to find the perfect meal at new restaurants? Look no further! TasteDNA is here to revolutionize the way you explore food. As the first and only food recommendation app that tailors its suggestions to your

Cinco de Mayo is a festive celebration that originated in Mexico but is now widely celebrated in the United States and other countries as well. This holiday has become synonymous with delicious Mexican food and drinks, and people around the

FOR IMMEDIATE RELEASE TasteDNA, the First Personalized Food Recommendation App, Launches in the App Store and Play Store. Available for download in the USA and Canada starting May 22, 2023 JOHNS CREEK, GA, May 23, 2023 - TasteDNA, an innovative food recommendation app,

As we gear up for a future among the stars, culinary scientists have been hard at work creating dishes designed for deep-space life, as seen in the recent CNN article about the deep space culinary lab​​. But here's a fun

The aroma of barbecues fills the air, and the sight of colorful picnic spreads was common sight as we celebrated the 4th of July earlier this week. It's not just about celebrating the independence of the United States; it's also

WRITTEN IN PARTNERSHIP WITH AMIR BAKIAN - JULY 6, 2023 Imagine a world where the perfect meal is just a tap away! Introducing TasteDNA, an innovative new app that provides personalized food recommendations you are guaranteed to enjoy, based on your unique

We are on a journey to becoming Georgia's largest online community of local food businesses. This fall, our visits to the farmers markets have been drenched in rain, casting a grey cloud not just in the sky but also on

Fall is that cozy time when the weather is just right. We love it because it's perfect for having our friends and neighbors over in our backyard. Ever since we started The Cottage, our menu for these get-togethers has turned

This Thanksgiving, we at The Cottage have so much to be grateful for. Our journey wouldn't have been possible without the support and belief of many incredible people. Firstly, we extend our deepest thanks to our investors. Your faith in our
Savor the Latest:
Subscribe for Flavorful News & Updates!
© Copyright TasteDNA Corp. | Image credits freepik.com